By Shawn Stewart
Try the newest way to bet sports without losing any money, SuperDraft Sportsbook, Download the SuperDraft Sportsbook on Google Play or on the Apple App store to place bets without risking cash for REAL PRIZES. SuperDraft Sportsbook is available in all 50 States.
A Reminder to click this link to get started to choose your SuperDraft Pro monthly subscription to sign up 3 out the 4 packages that we are offering so you can win more coins to win prizes and multiplier on SD Sportsbook Daily Spin rewards, we recommend that you do sign up with the Free and Fun package, there is hardly any games on the Free & Fun Package. Also, Download the SuperDraft Fantasy Sports App on Google Play or on the Apple App store to get your DFS lineups to play SuperDraft Pro on the SuperDraft Fantasy Sports App.
Also, if you interested in being a Coach on SuperDraft Pro, email is attached on the SuperDraft Pro website.
Also, a reminder that it is for entertainment purpose only
Here are my 5 players that I have player props on the SuperDraft Sportsbook for the Sunday Afternoon games for 11/20/22
Josh Allen over 285 Passing Yards
Josh Allen is facing a Clevland Browns team is ranked 19th in pass defense (218.0 yards allowed per game)

Josh Allen has thrown for more than 277.5 passing yards.
The Buffalo Bills have the 2nd best passing yards with 294.2 per game
2. Nick Chubb more than 78.5 rushing yards
Chubb is averaging 100.4 rushing yards per game. Chubb has also collected more than 73.5 rushing yards in 7 games this season (77.8% of his total appearances). In seven of nine games this season (77.8%), Chubb has gone over his rushing yards prop total.
Chubb is facing a Buffalo Bills defense that is Allowing 109.6 rushing yards per game, the Bills have the seventh-ranked run defense in the league
3. Melvin Gordon more than 37.5 rushing yards
Gordon has rused for more than 37.5 yards in 3 of his 9 games,
Gordon is facing a Las Vegas Raiders team that is 21st in the league in defense against the run, giving up 126.1 yards per game
The Broncos are accumulating 5.4 yards per play on offense (24th in the league), while featuring the best yards per play on defense in the NFL (5.0) this season.
4. Justin Jefferson more than 99.5 receiving yards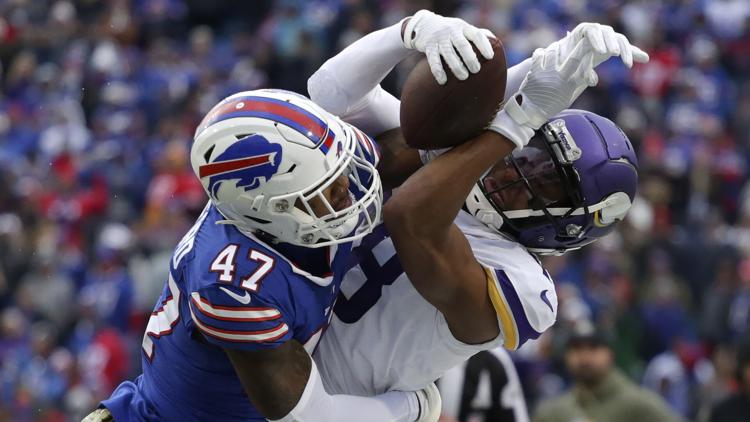 In 7 out of the 9 games that Justin Jefferson has played, Jefferson has gained over 96.5 receiving yards in 77.8% of his opportunities this year, also Jefferson has gone over on his prop for receiving yards in 7 out of the last 9 games that he has played.
Justin Jefferson is facing a Dallas Cowboys team that are allowing 181.7 passing yards per game this year, the NFL's third-ranked pass defense.
5. Joe Burrow over 255.5 passing yards
Burrow has thrown more than 254.5 passing yards five times in 9 games this year, Burrow has gone over his passing yards prop total in 5 out of 9 games.
Burrow is facing a Pittsburg Steelers Pass defense that gives up 263.9 passing yards per game which makes them the NFL's 30th-ranked pass defense this season.
All of these stats & Info are from Browns Wire, Broncos Wire and Sportsbook Wire
Shawn Stewart is the Founder/CEO of Sports 4 America; Shawn Stewart also hosts The S & P Sports Show, you can follow him on Twitter @S4AStewart