By Shawn Stewart
Try the newest way to bet sports without losing any money, SuperDraft Sportsbook, Download the SuperDraft Free Sportsbook on Google Play or on the Apple App store to place bets without risking losing money for REAL PRIZES. SuperDraft Free Sportsbook is available in all 50 States.
A Reminder to click this link to get started to choose your SuperDraft Pro monthly subscription to sign 3 out the 4 packages that we are offering so that way you can win more coins to win prizes and multiplier on SD Sportsbook Daily Spin rewards, we recommend that you do sign up with the Free and Fun package, there is hardly any games on the Free & Fun Package. Also, Download the SuperDraft Fantasy Sports App on Google Play or on the Apple App store to get your DFS lineups on your email on a daily basis to play SuperDraft Pro on the SuperDraft Fantasy Sports App.
Also, if you interested in being a Coach on SuperDraft Pro, email Shawn at shawn.stewart@sports4america.com.
Also, a reminder that it is for entertainment purpose only
Here are my 4 player props that I have for the SuperDraft Free Sportsbook for Monday Night Football between the San Francisco 49ers vs the Arizona Cardinals.
Gametime is 8:15 PM EST on ESPN
This is for Entertainment Purpose Only
Jimmy Garoppolo over 253.5 Passing Yards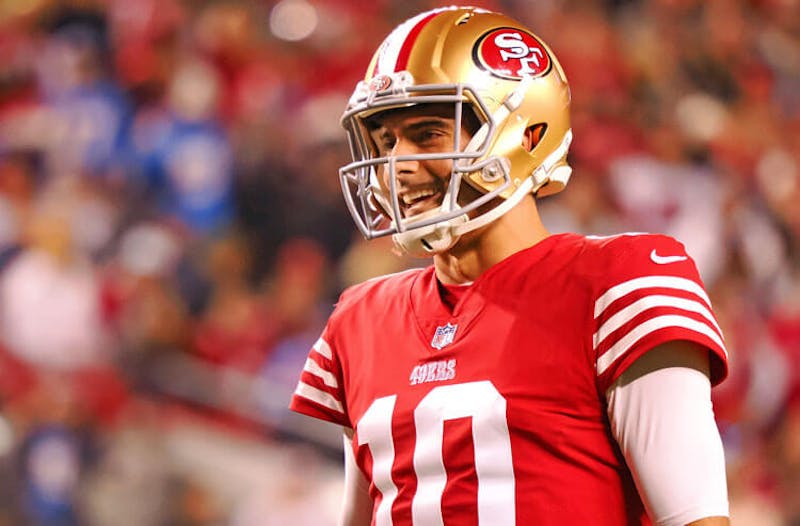 This season, Garoppolo is averaging 253.9 passing yards
Garoppolo had at least 240 passing yards in four of his last five games, and it could have been five of his last six if he got one more yard through the air against the Rams in a Week 4 win.
Jimmy G is going against an Arizona Cardinals defense that ranks 23rd in passing yards allowed per game (247.1).
2. Christian McCaffrey over 37.5 Receiving Yards
In 3 games with the San Francisco 49ers, McCaffrey is averaging 5.7 targets and has wnt over in 2 out of 3.
Arizona is allowing an 83.3% catch rate to opposing RBs and an average of 6.95 yards per target.
James Conner over 49.5 Rushing Yards
This season, Conner has collected more than 47.5 rushing yards.
Conner has gone over on his rushing yards prop bet five times sor far this season (in seven opportunities).
Conner is going against San Francisco 49ers Defense that allows 82.7 rushing yards per game and is the NFL's second-ranked rush defense.
4. George Kittle over 41.5 Receiving Yards
George Kittle is averaging 48.6 Receiving Yards
The 49ers tight end has a better catch rate (70.7%) and higher yards per target (8.29) than Deebo Samuel this year according to Jennifer Piacenti of Sports Illustrated.
Kittle is facing an Arizona Cardinals team that are allowing a league-leading average of 77.7 receiving yards per game.