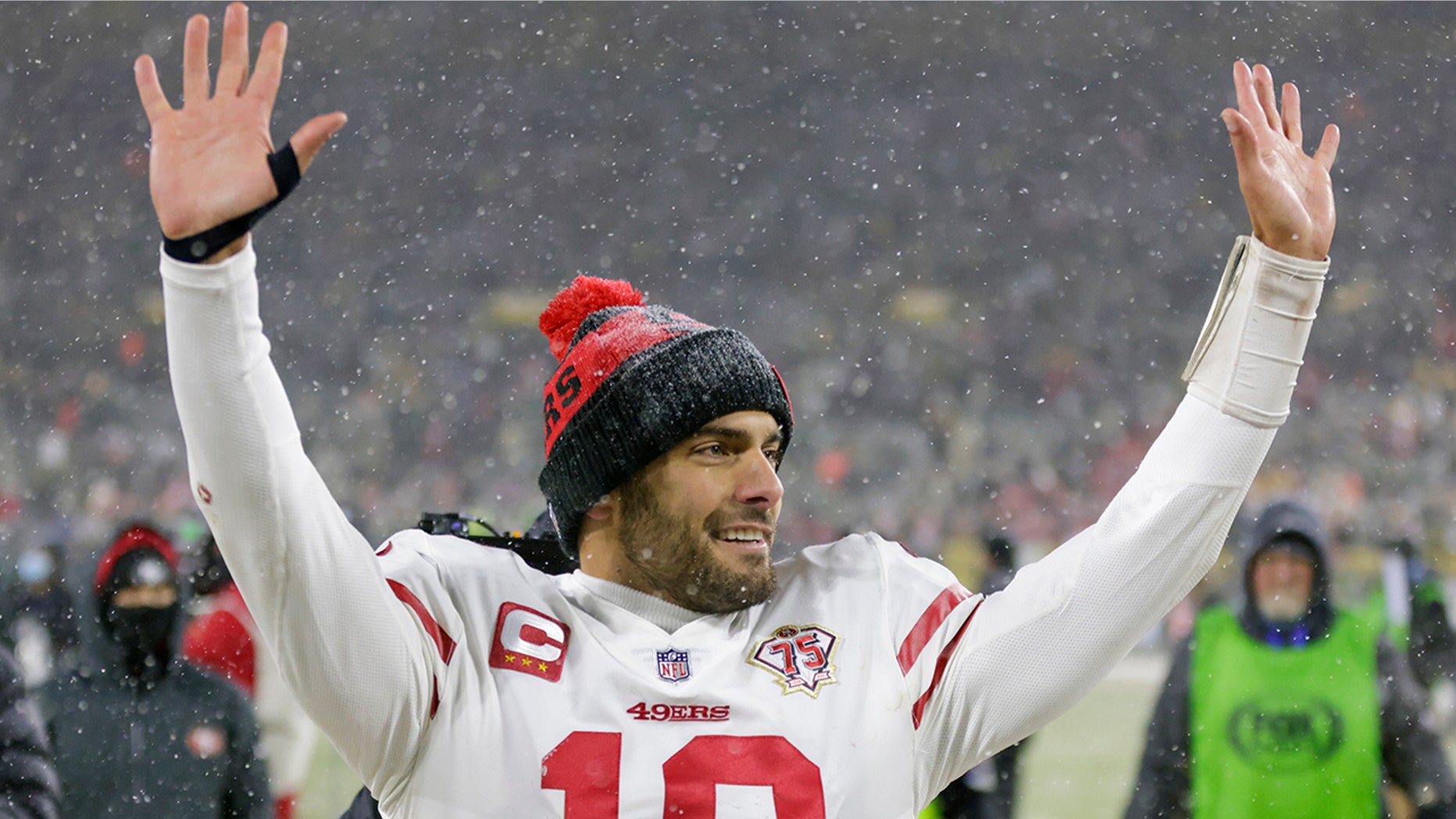 The San Francisco 49ers knocked off the top-seeded Packers 13-10 on Saturday night.
The Packers (13-5) earned the NFC's top seed for a second straight season and were the league's only unbeaten team at home, but again failed to reach the big game. They haven't made it to the Super Bowl since their 2010 championship season.
A.J. Dillon's 6-yard touchdown run capped a 69-yard drive on the game's opening possession that put the Packers ahead 7-0. Green Bay's offense didn't do much of anything after that.
The 49ers had minus-10 yards in their first four series, three of which included third-down sacks. It was the first time the 49ers had opened a game with four straight three-and-outs since a 27-24 loss to the Minnesota Vikings on Sept. 27, 2009.
The 49ers didn't get a single first down or pass completion until Garoppolo connected with George Kittle on a 15-yard gain with less than 6 ½ minutes left in the second quarter.
San Francisco tied the game with 4:41 left thanks to a breakdown by Green Bay's special teams, the Packers' biggest weakness all season.
After the Packers went three-and-out, the 49ers got the ball back at their 29 with 3:20 left and drove into field-goal range. Deebo Samuel delivered a 9-yard run on third-and-7 from the Green Bay 38, and the 49ers ran down the clock to set up Gould.
Gould has made all 20 of his career playoff field-goal attempts. His latest helped the 49ers complete an improbable comeback by scoring 10 unanswered points in the last five minutes.
Garoppolo was just 11 of 19 for 131 yards with an interception, but the 49ers still managed to win.
"I always trust Robbie. He's as good as gold, man," Niners quarterback Jimmy Garoppolo said. "He always is."
The 49ers are the 4th team since 2000 to win a playoff game without an offensive touchdown. And first since the 2016 Steelers in the divisional round vs Chiefs. The other two teams were the 2006 Colts & 2000 Giants, who both made the Super Bowl that season. according to ESPN Stats & Info
The 49ers (12-7) continued their postseason and advanced to an NFC championship game matchup Jan. 30 at either the Tampa Bay Buccaneers (14-4) or Los Angeles Rams (13-5). Both teams play Sunday in Tampa.
Rodgers went 20 of 29 for 225 yards and dropped to 0-4 in career playoff starts against the 49ers. He's the first quarterback in NFL history to lose four playoff starts to a single opponent.
Shawn Stewart is the Founder/CEO of Sports 4 America. you can follow him on Twitter @S4AStewart